Homeowners – Businesses – Contractors – Anyone involved in digging
Today, more and more of the utility companies that supply your home or business with power, heat, water, telephone, sewer, gas and cable television service are delivering those services underground. It is also possible that these buried service lines are close to the surface, making digging a dangerous endeavor. Fortunately, you can find out where public utility-owned lines are buried on your property by contacting 811 either by phone or online. NC811 will notify our member utility companies of your excavation needs and those utilities will have professional locators mark their buried lines, free of charge.
The law requires that three full days before every excavation, the person responsible places a notification request to NC 811. This allows time for the underground utilities to mark their lines so that you can avoid them during excavation. NC 811 does NOT mark the utilities. But we do notify them on your behalf to keep you and utilities safe. It's fast, It's free and it's the LAW. Details of the process are below.
Choose how you will learn about the 811 process.
Click on the interactive Google Slide below and walk through the process step by step, read each step below by clicking the plus icon to expand each section or watch the short video at the bottom of this page.
---
Single Address Ticket and Remote Ticket Entry give you the ability to create your own locate request online, but what else can you do here on our website? Positive Response gives you the ability to check the status of your locate and see which utilities have been marked. Update Lite will let you update a locate if your digging project is going to take longer than you expected. Revise will let you make changes to a locate request. And Near Ticket will show you who else may be digging near you and why. Private lines won't be marked when contacting 811. You will need a private line locator to do that. We have developed a contact a list of private line locators.
---
FOLLOW THESE 5 STEPS TO SAFE DIGGING
Click on each step below for detailed information.
STEP ONE: Contact 811
You can call 811 directly or use our web-based ticket system, Single Address Ticket (SAT)
Professional excavators who create more complex and multiple locate requests can use
Remote Ticket Entry.
Have the following information ready when you contact 811:
Phone number
Address (including the county)
Is it in a subdivision?
A cross-street name (nearest intersecting street & is it within a 1/4 mile)
Where exactly is the area you wish to have located? (are you marking the area with white paint or flags) Learn more about white lining your excavation area.
For a full listing of required locate request information click here
​
You will be given a ticket number and a verbal list of utility companies that are notified by North Carolina 811. This does not mean each member listed owns buried utilities on your property. You will want to write down the names of the utility companies for easy reference. Every utility company is not a member of North Carolina 811.
STEP TWO: Wait the required time
THREE FULL WORKING DAYS
North Carolina 811 member facility operators have three full working days, starting the day after a notice is received, in which to mark their facilities. The calendar below shows examples of when an excavator should be able to dig, depending on what day of the week a notice is given. This does not apply to subaqueous locates or Design/Survey locates, which require 10 full working days, starting the day after notice is given.
To clarify: the member facility owner should mark their underground facilities between the start of the next working day after the locate is placed and the end of third working day by 11:59 pm.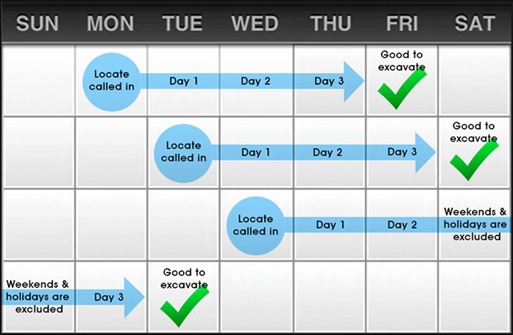 NOTICE EXPIRATION (LIFE OF A TICKET)
Tickets are good for 15 working days, starting the day after the notice is given. If more time for digging is needed past the 15th working day, the ticket should be updated by the 12th working day to allow for the new 3 full working day notice, so as to provide continuous locate coverage. The calendar below shows an example of when a ticket would need to be updated and when it would expire based on this time sequence.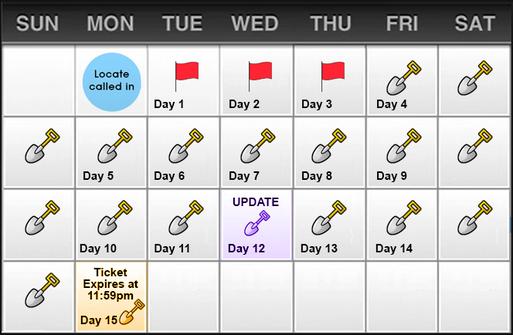 PLEASE BE AWARE:
PRIVATE LINES WILL NOT BE MARKED BY CONTACTING 811
​What is a private line?
It is the responsibility of the excavator to contact a utility locating company to have any private lines located. The utility company determines public utility lines themselves, and the maintenance usually ends where the meter of the particular line is. Beyond the meter and up to the building or home, including the backyard, is then considered a private utility, for which the property owner is responsible.
Water, sewer, and storm drain lines are marked within the right of way or to the meter, and not on private property. Lines from the right of way or meter to the residence or business are private lines and you will need to contact a private line locator to have these lines located. Member facility owners are not responsible for marking private lines. You must contact any non-member facility owners not listed on your location request directly to request their facilities to be located and marked.
STEP THREE: Check Positive Response
Positive Response is a means for the utility members of North Carolina 811 to provide information regarding the status of your location request. Have the facilities been marked? Does the locator need to meet with the contractor or are there no facilities in the area of excavation? There is no charge to the excavator in retrieving the information and members can save the cost of retransmitted location requests. ​
STEP FOUR: Respect the marks
The underground facilities located on your property will be identified by color coded paint, stakes or flags. Once the underground facilities have been located it is very important that the stakes, flags or paint not be disturbed. You may want to explain to young children that the brightly colored flags are not toys and should not be removed from the ground. Refer to the color code chart as a guide to identify the marked underground facility.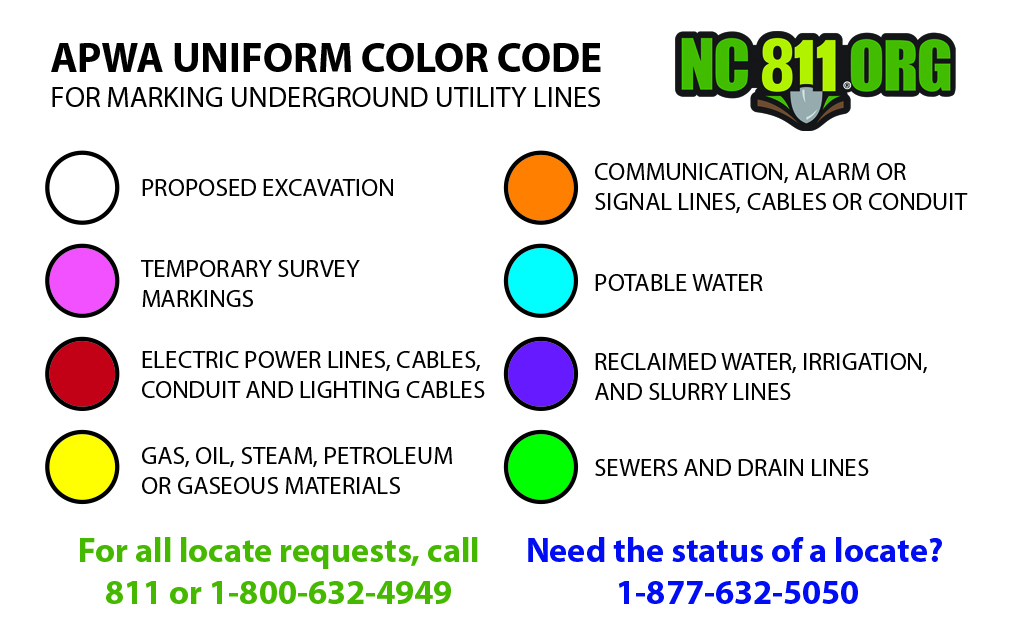 STEP FIVE: Dig with care
The width of the location tolerance zone includes 24 inches on each side of the utility plus the width of the utility itself. If you must dig within the tolerance zone, digging with caution by hand is recommended to help reduce the possibility of damage to the located utility. The depth of the facilities is not known by NC811. Facility owners will bury their lines according to their industry's code. However, facility depths can vary due to installation practices, changes in grade, soil erosion, and other variables that occur over time.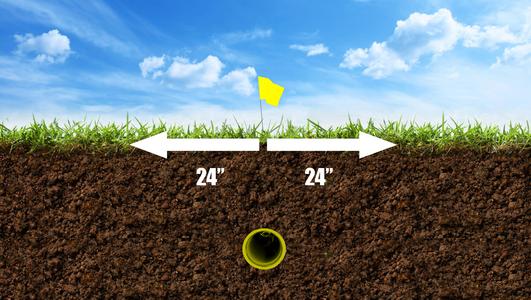 If a damage occurs, you will need to notify the facility owner directly, and you can dial 811 to enter a report of damage to underground facilities. In the event of a gas product release, please quickly and safely move upwind and dial 911 to report.